Travelling solo for the first time can be intimidating. But it can also be freeing. After finishing my travel consulting training, I was offered the opportunity to travel to Vancouver for the annual conference with my host agency. Having one of my close friend move to Seattle not long before, this opportunity gave me the perfect excuse to get this adventure on path. As I took care of all the details, my bags were packed and I was on my way to Toronto to catch my flight to Vancouver. I still couldn't believe I was going to Vancouver AND Seattle! Yep, this girl was EXCITED! Here's a summary of not to miss places to visit if you're in the area on a short time frame: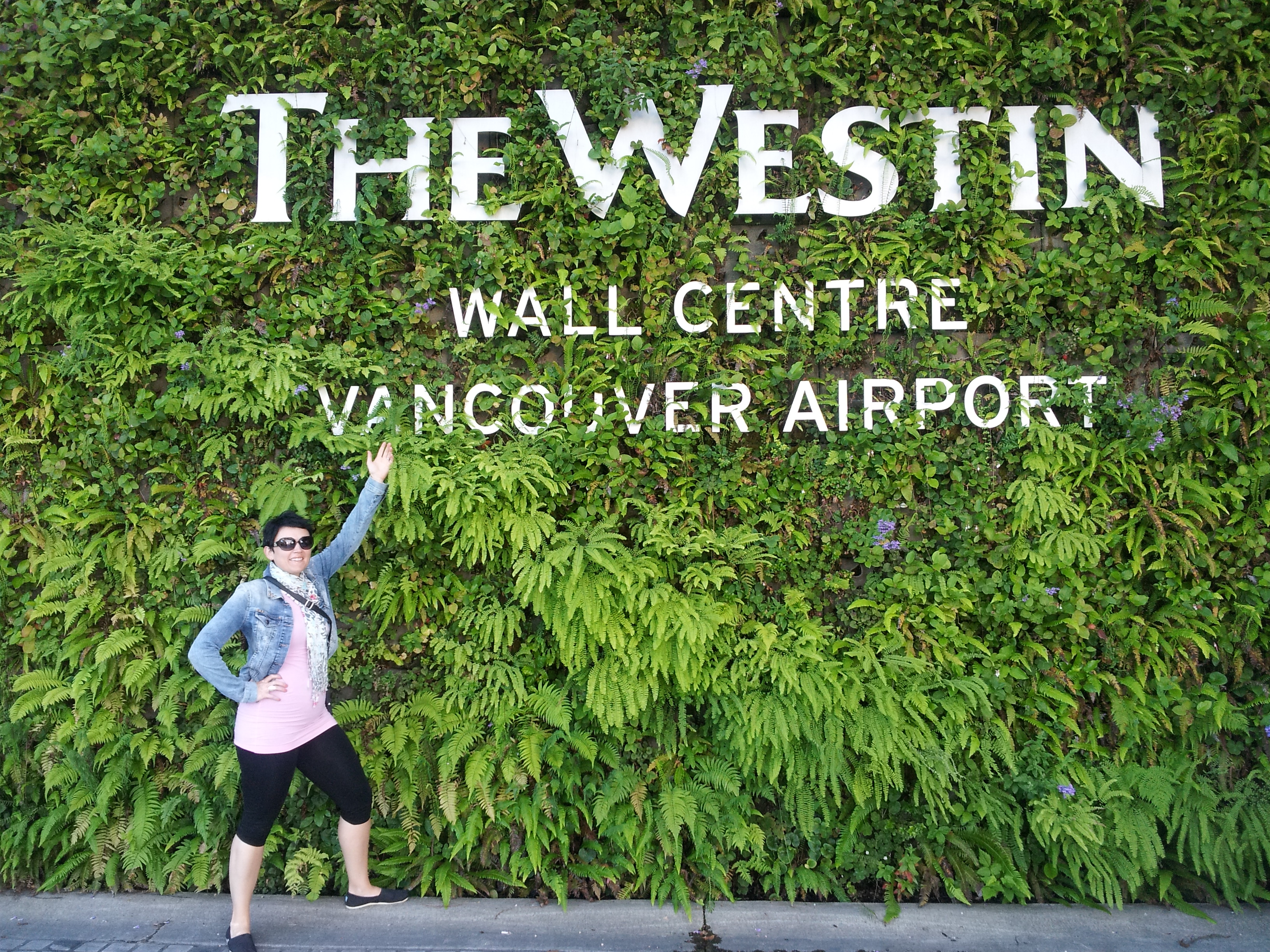 The Westin Wall Centre
After settling in my hotel, The Westin Wall Centre, I was ready to take on Vancouver by the horns! The views of the mountains out of my room were breathtaking! Unfortunately, the evening took its toll, and I settled for a glass of wine to unwind, relax and catch up on my zzzz's as I prepared for my 2 days of conference with travel suppliers and other advisors. (By the way, the Westin heavenly beds are by far my favorite when staying at a hotel). Fast forward 2 days of conference and networking and I was ready to explore this beautiful city!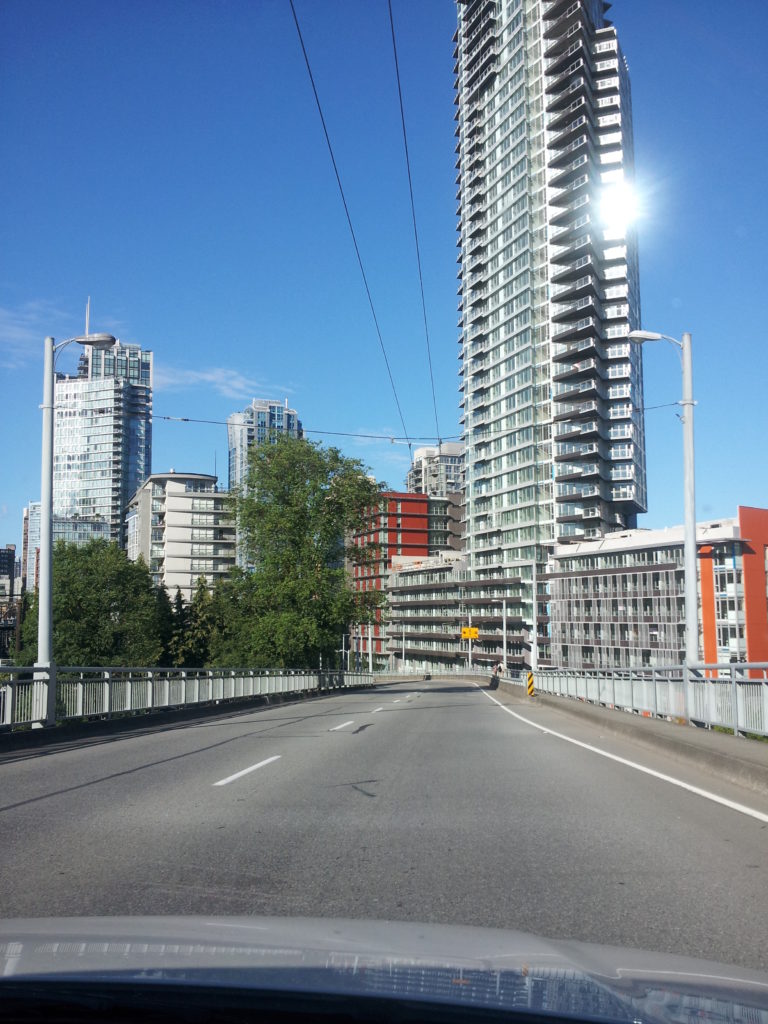 First stop – Gastown! – Beautiful lush greenery follows the roads and sidewalks. Even the gigantic buildings have greens growing on the rooftops! How amazing is that! (Yep, it doesn't take much to get me excited – remember I come from a VERY small community) My first stop was dinner at Steamworks Brewing Co. A great little pub with locally brewed beer. Food was delicious with lots of options, from steak and seafood to burgers and salads. After indulging in the delicious food and locally brewed beer, it was time to continue my explorations.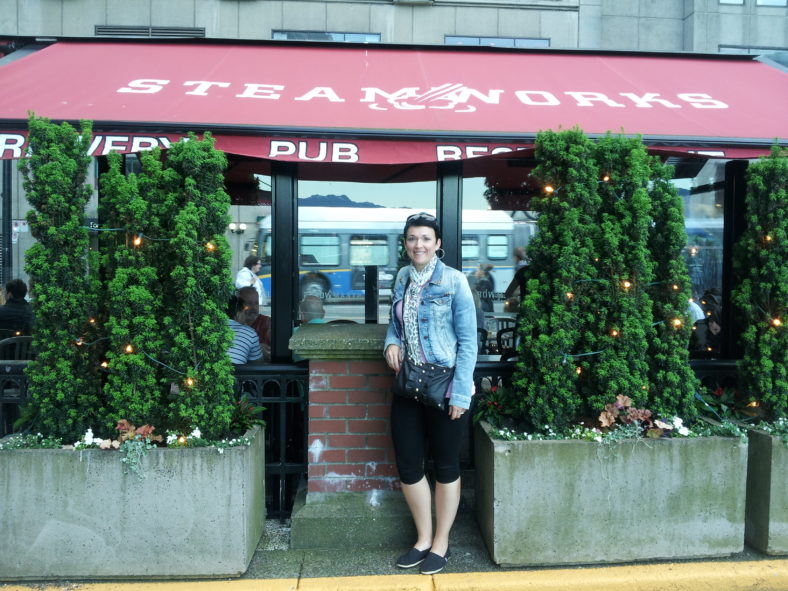 I discovered lots of little boutiques shops, coffee shops, pubs and historic sights to explore, including the famous Steam Clock. This was a hit! If you're in the area, it really is worth visiting and exploring.
Stanley Park
There was no other way than to finish the evening with a drive through Stanley Park and the Lion's Gate Bridge. It was just what the doctor ordered – some time to relax and get lost in that gorgeous sunset. A sight not to be missed! A true way to rejuvenate the soul.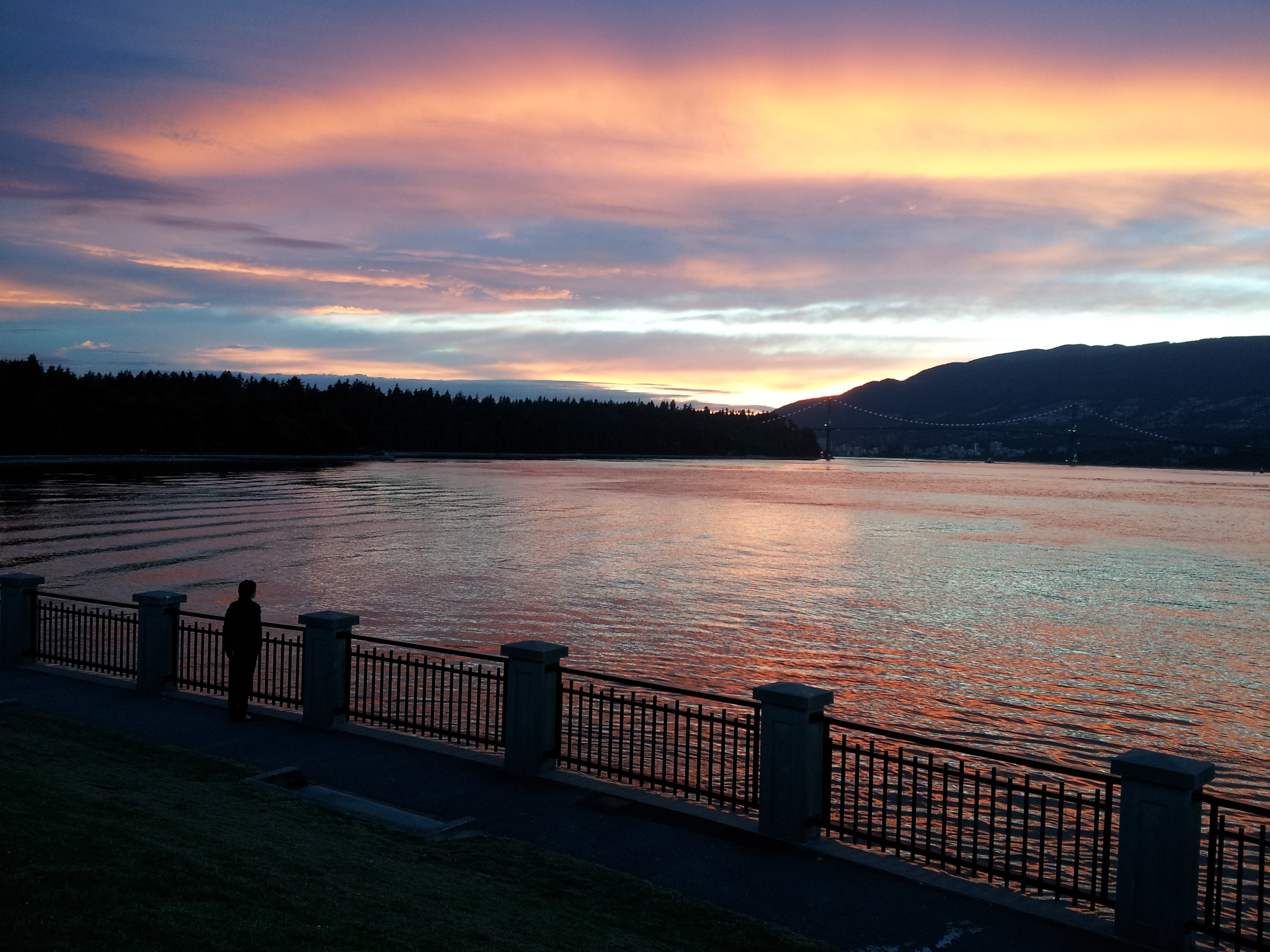 As I settled for the night back at the hotel, I was more than satisfied with my day of exploration. My next day was proving to be a busy one as well. I was itching to explore and see more…I mean I can't come to Vancouver and not see Canada Place or Granville Island!
As I started my day refreshed – I had the most amazing night's sleep (I am in love with the Westin heavenly bed!), I was ready to take on the day with my first stop at Granville Island.
Granville Island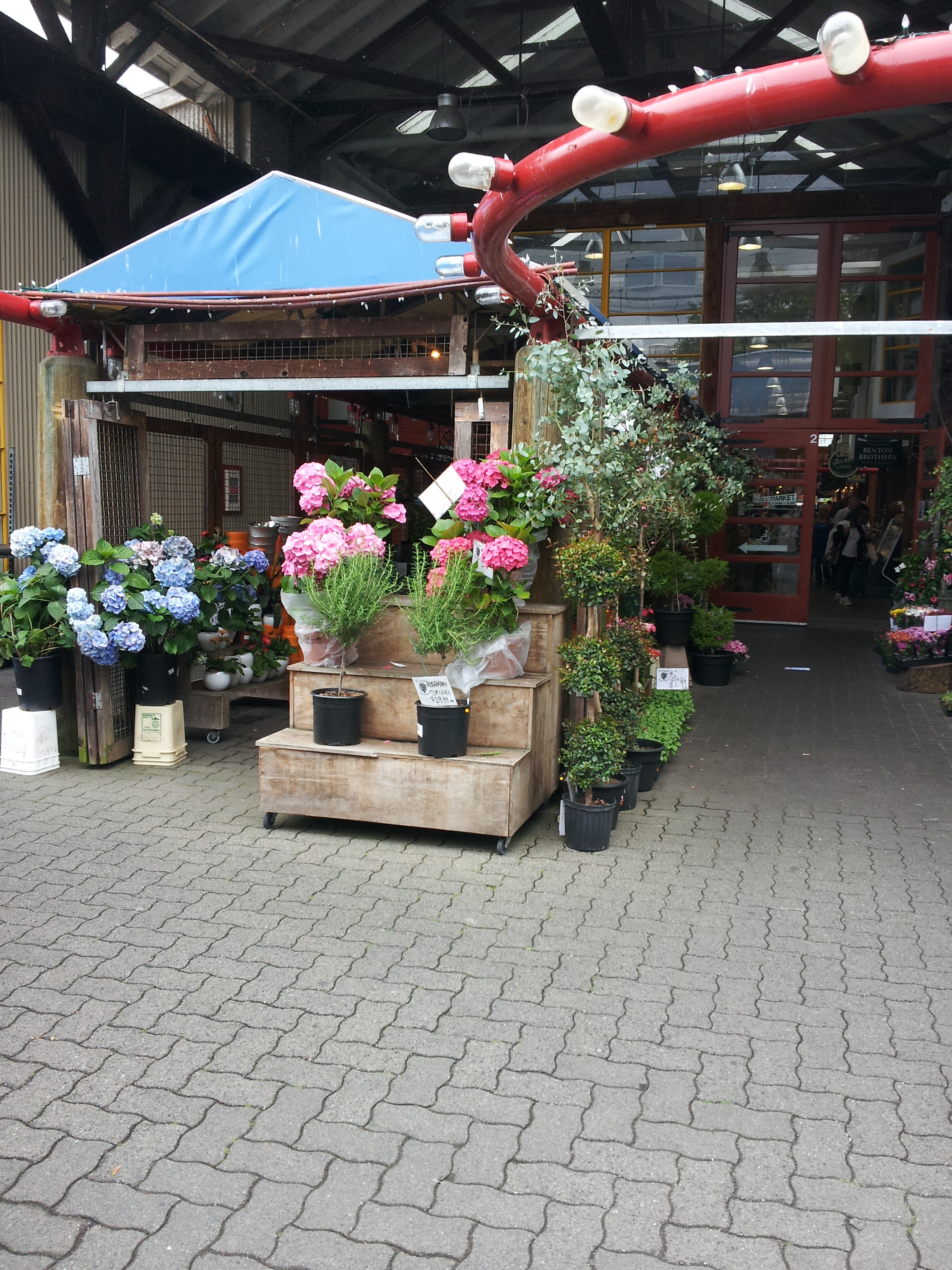 The easy to navigate streets made the perfect morning to shop in the markets and unique boutique shops around every corner. As my feet got tired, I even took time to sit and enjoy the breathtaking views that surrounded me. I think I could have stayed here for a while…but there is so much more I want to see. Off I go to continue my journey. I decided on taking a water taxi to navigate the waters towards Yaletown and finally to Canada Place.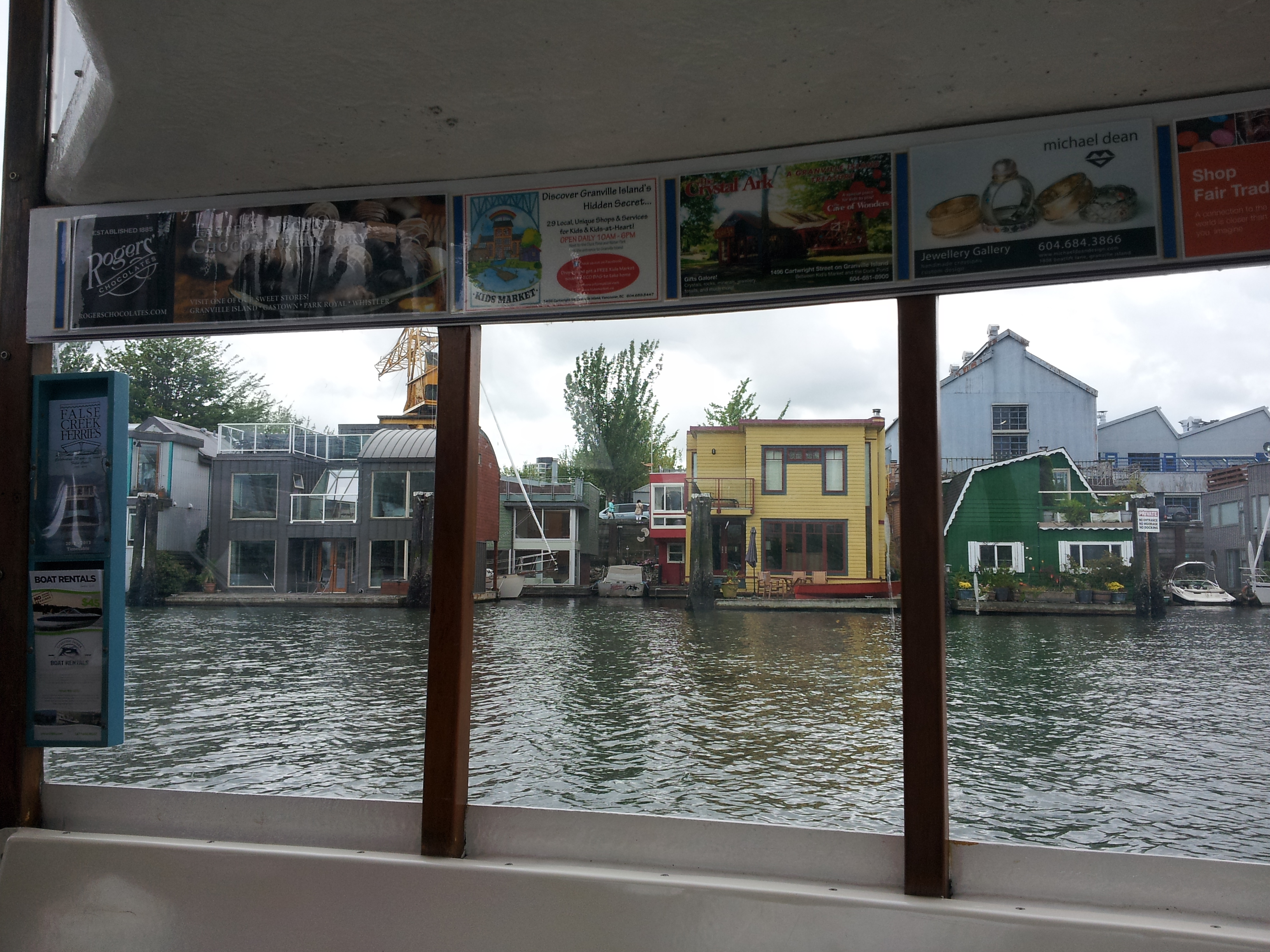 Yaletown to Canada Place
Ok so I'm downtown Vancouver, literally! Even in this congested city, the sights are amazing. I could sense my eyes glaring at Canada Place. My lucky day! There were a few cruise ships in port! I had never seen a real cruise ship with my own eyes, so this was exciting! There were people buzzing at every corner, coming and going with suitcases, this city was on fire!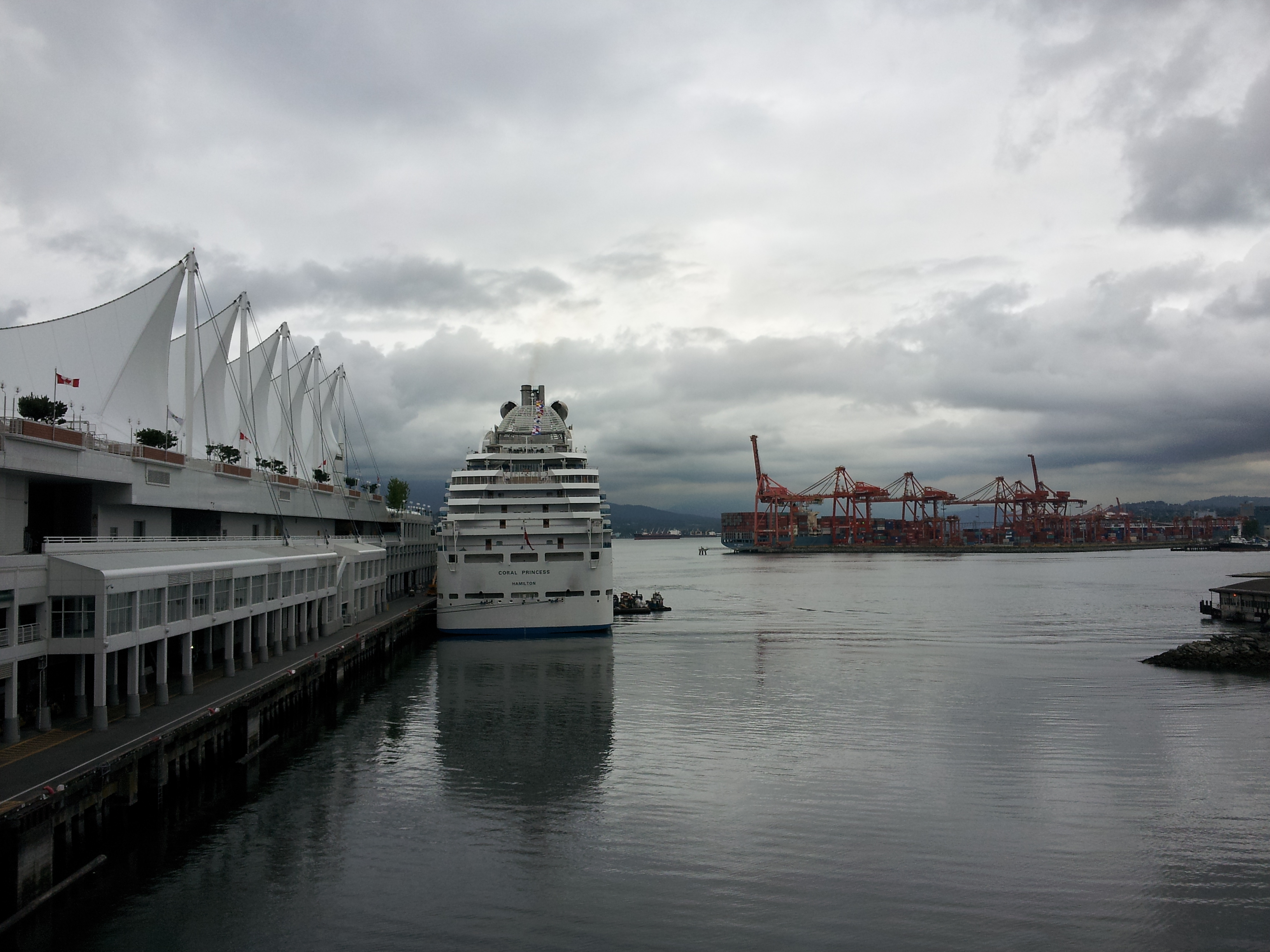 As I walked around the area, my day was coming to an end and so was my brief stay in Vancouver. I had to go pack my bags & continue my journey to….yes….Seattle!
Seattle baby!
After an uneventful 4.5hrs coach ride to Seattle, my friend met me at SeaTac airport. I thought Vancouver was congested, well getting out of there proved to be a little hectic, but we made it home!  As I only had a few days in Seattle, we spent the next day exploring Pike Place Market.
First stop, Starbucks! Yes, the original. The line-up was brutal! I wasn't up to waiting in line an hour for a coffee, so I settled for a picture.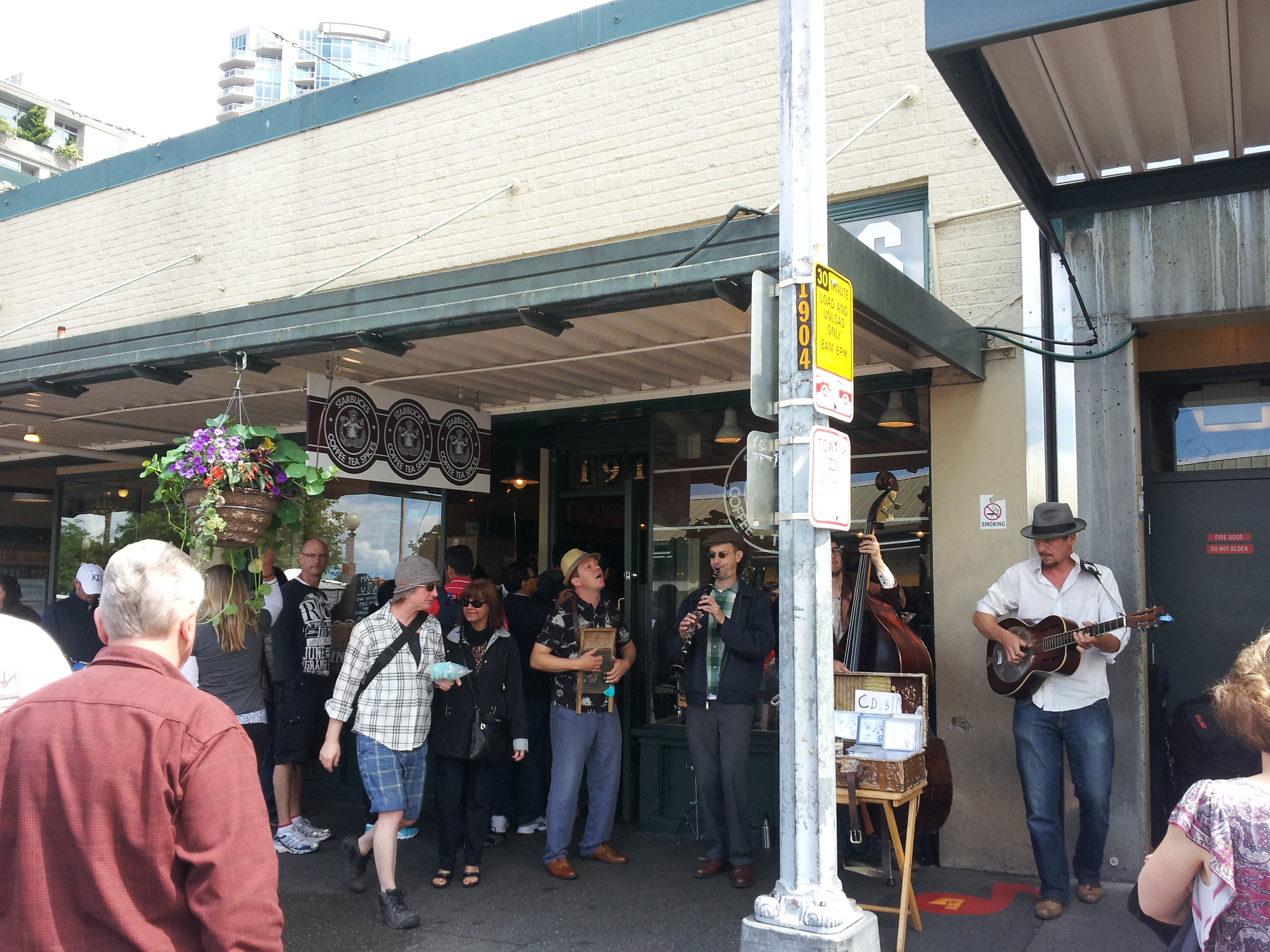 This place has endless shopping booths…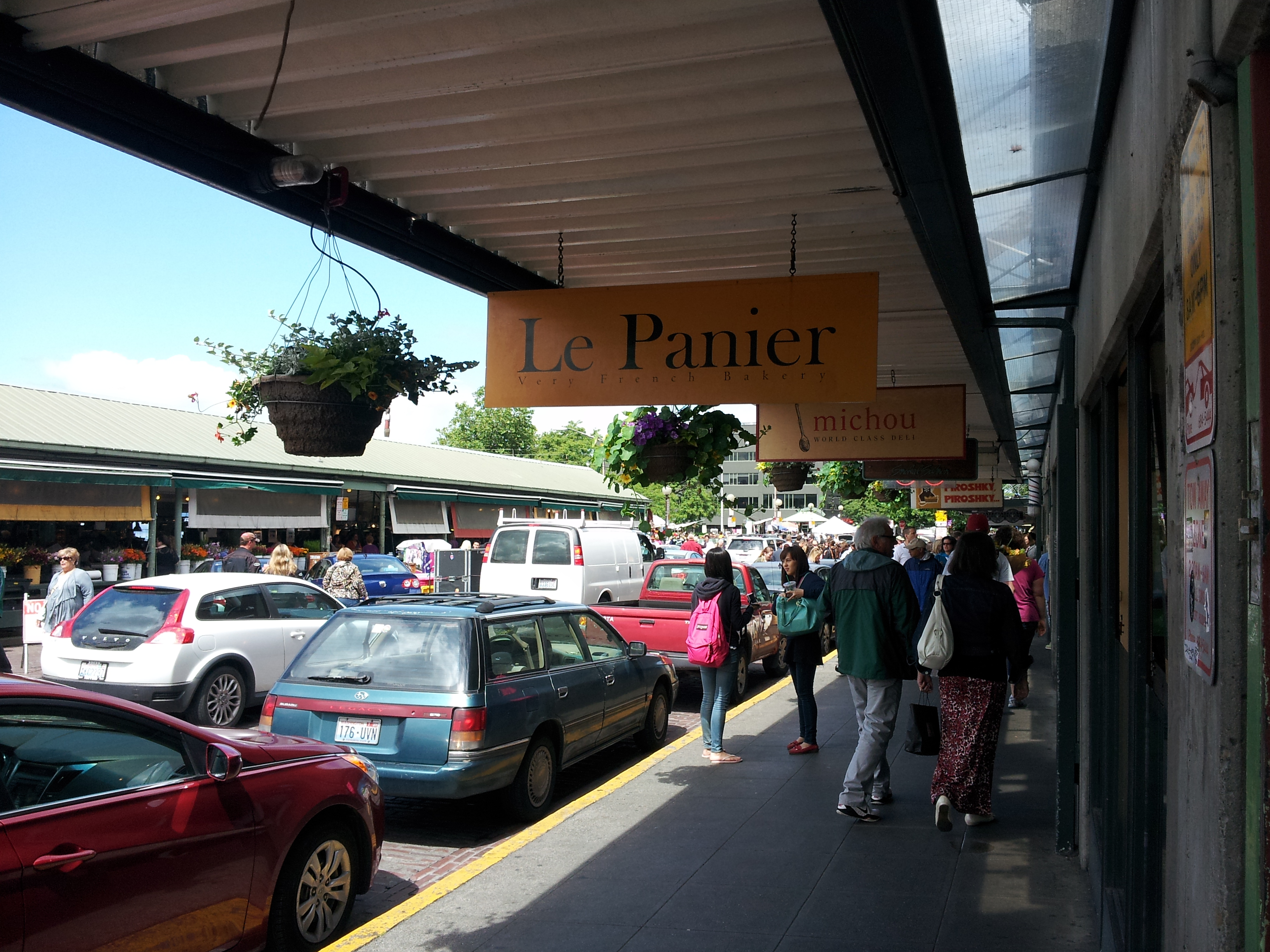 As we made our way towards downtown, we settled to eat lunch at The Crab Pot. Holly crab legs!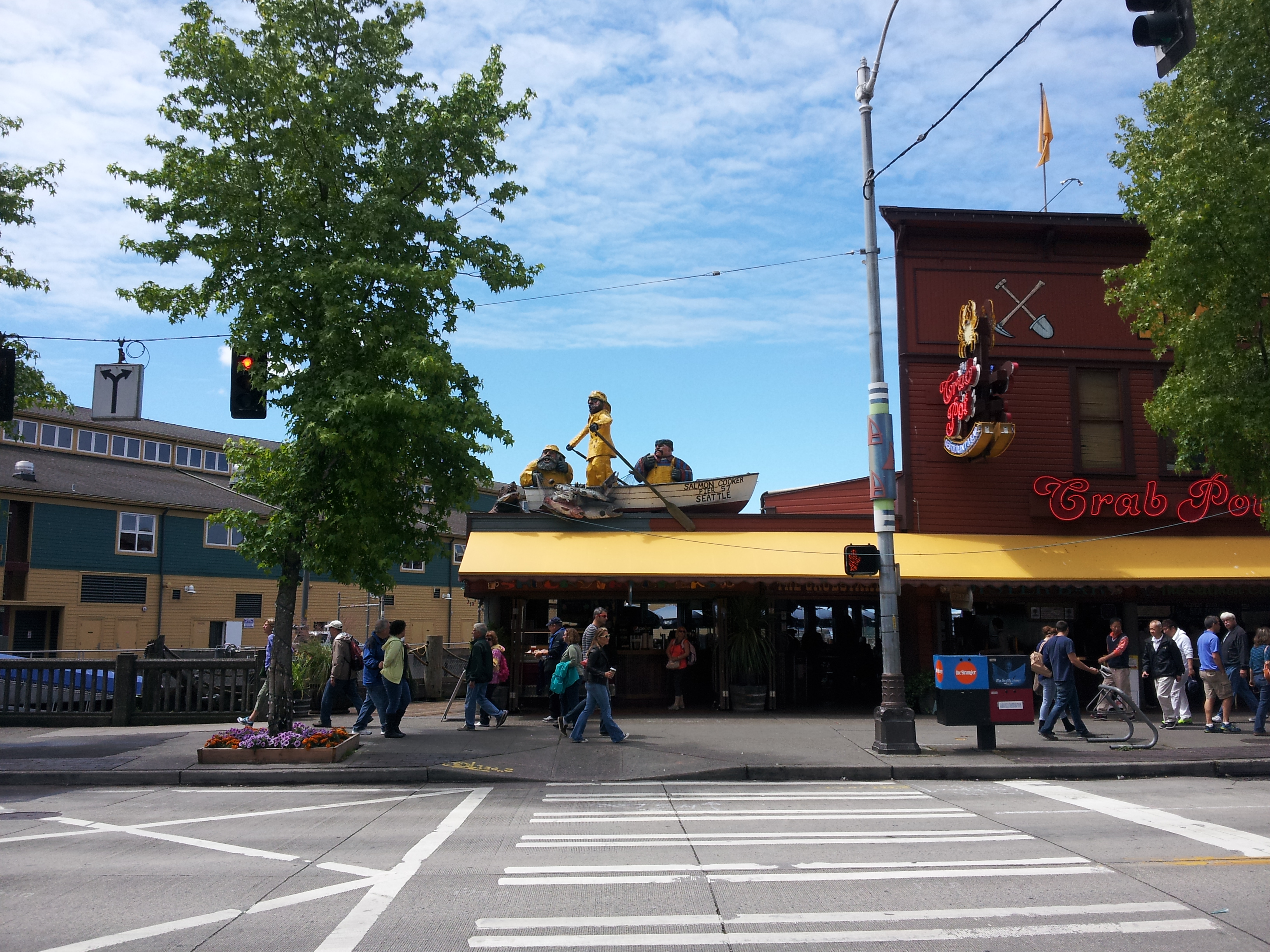 Deciding to head home before the end of the work day rush didn't go so well. A 50 minutes ride home took 2.5 hours. Oh well, the day was a great one of new explorations & what better way than to bond with my girlfriend!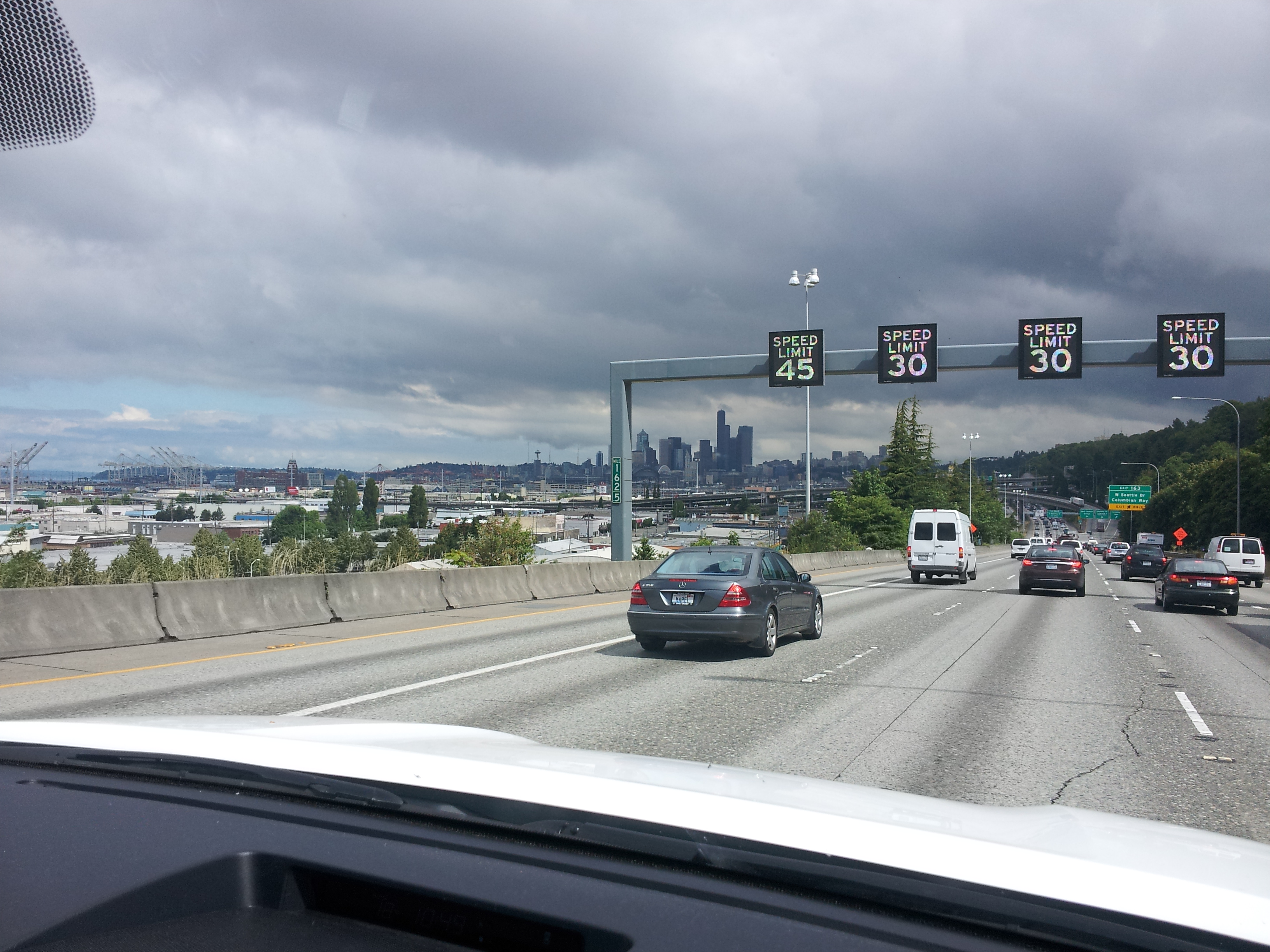 As much as I love to travel, I also love to go back home (well sometimes, but I think I like to travel more…) Vancouver is truly a magical city with endless possibilities. I could have stayed longer to explore more and it is still someplace I would like to re-visit one day.
Are you ready to explore Vancouver or Seattle? Let me help you plan your perfect holiday. Connect with me here.