Ahhh! Jamaica! If you've been following my travels, you might have noticed that Jamaica holds a very special place in my heart. I have travelled multiple times to this gorgeous island and still can't get enough of it's Irie culture and vibe. Having the opportunity to experience resort life at the Moon Palace Jamaica Grande in Ocho Rios as an exclusive group of travel agents through our Palace Resort representative, this gave me the perfect opportunity to share my experience with you. Palace Resorts has put extensive work and refurbishment into the property to make it a luxury 5* resort. The Palace Resort chain is very popular in Mexico, specifically the Riviera Maya and Cancun area. They have multiple All-Inclusive 5* Luxury properties, both adult's only and family resorts, with one of them being one of THE top resort in Cancun – Le Blanc Spa (this one has been on my bucket list for a while!). The Moon Palace Jamaica Grande property has been totally re-furbished to bring it to the Palace Resorts standards and it did not disappoint!
Located in downtown Ocho Rios, approximately 1.5 hours from the Montego Bay airport, this resort is in a perfect location for the curious soul. A hop and a skip from markets, water and land excursions to restaurants and bars, all can be done without spending two to three hours a day commuting to popular attractions.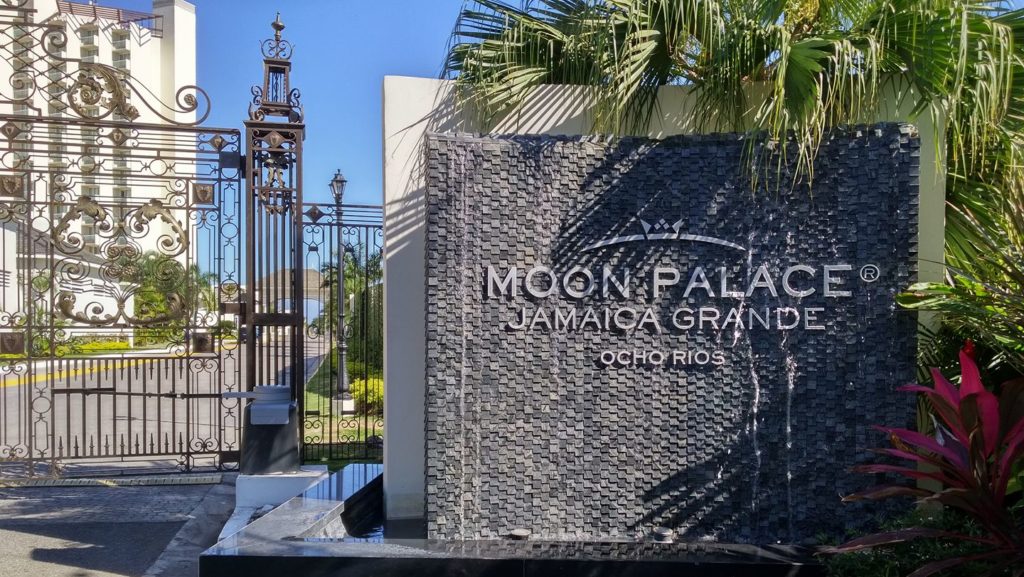 As you enter the property, big gates open to let you in this gorgeous property. Welcomed with a fresh cold towel and a glass of champagne, it's the perfect way to start your holiday. The staff welcomes you with a smile and a professional, yet personal attitude and this follows you throughout the duration of your stay. As you enter the lobby area, it is Grande! The décor has been thoroughly thought of, from lights to furniture and décor, it gives a sense of a modern inviting place to feel at home for your vacation.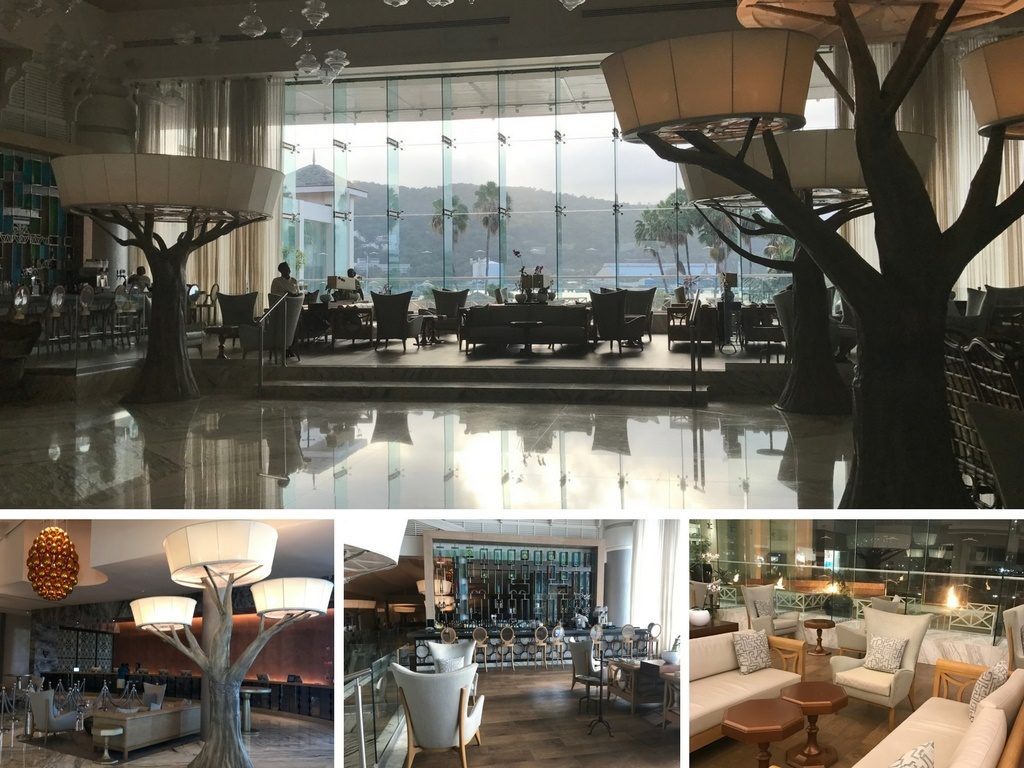 And then, there's the smell…yes, I said smell! Palace Resorts have their own unique touch when it comes to inviting you home…they have come up with a way to make the lobby, the elevators and even the hallways smell like you're in a beauty salon. I personally fell in love with the smell. While it might be overwhelming to some who are majorly allergic or sensitive to such smells, I found it took the "moldy" or humid smell that you usually get from the tropics out of the equation. It made it that much more inviting to explore inside the buildings.
As I entered my room, everything was clean, fresh and simple. I had two double beds which took most of the space in the room. The rooms are small, but functional. Extra amenities are included, such as CHI hair and bath products, a garment steamer, room service, free Wi-Fi, and more.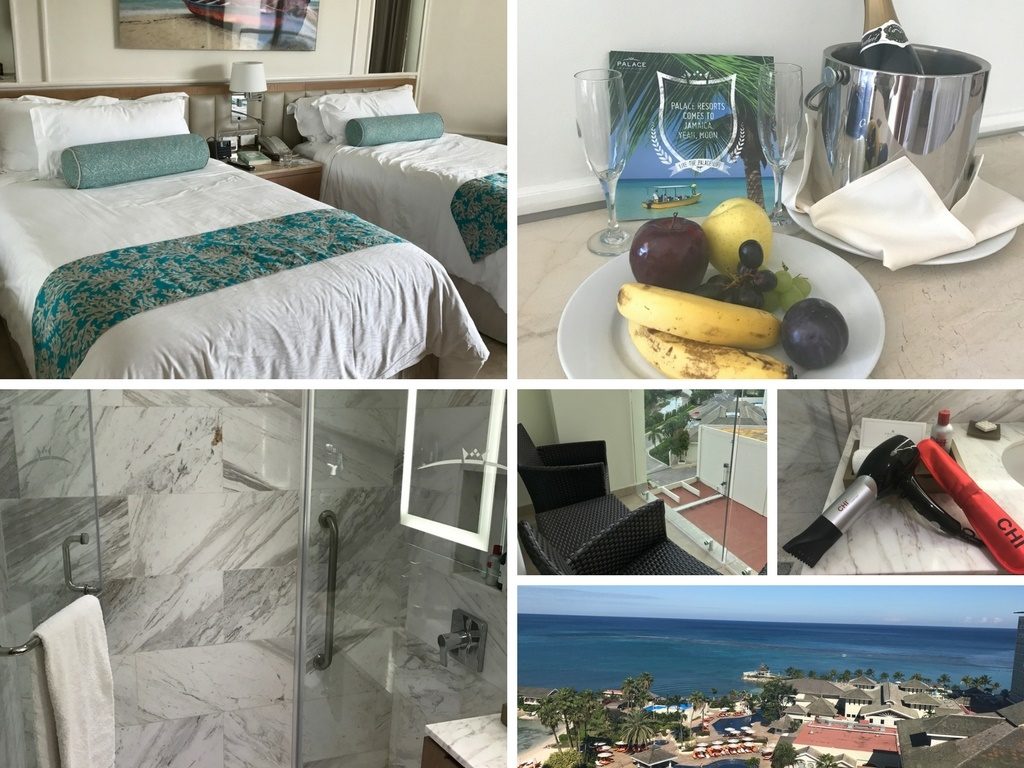 My room had a small balcony which faced mostly the mountains/town area. I had a glimpse of the ocean, but really had to stretch to get that view. As my room was facing more the town area, the weekend nights were a bit noisy due to the music that was played in town. So when you are sitting out on your balcony, it can be noisy. As some of my colleagues had rooms facing the ocean, they said theirs was more quiet. One thing to consider when booking this resort is that not all rooms have balconies. One of the building is equipped with French balconies, so if this is important for you, always specify and book your preferred room location so to avoid disappointments. A large Smart TV is included which can be used for ordering room service and is available 24hrs a day! You'll never go hungry here!
Speaking of food…Jerk Chicken anyone? From the famous Jamaican cuisine to Sushi, crepes and pizza, food options aren't lacking here. It boosts a wonderful No reservation policy with four different A la Carte Restaurants to choose from for dinner, so you can eat when and where you want without being on a schedule. This is a major positive attribute when I personally choose my vacation week at an All-Inclusive resort. As for daytime options, there are snack bars and restaurants at every corner.
Another Grand amenity of this resort is the spa, the Awe SPA! You will be totally immersed in a sublime relaxing environment with a varied choice of blissful treatments or thermal baths and water circuit. Let's just say that I took advantage of using the water circuit treatment a few times. Nothing better than to melt the stress away from our bustling lifestyle. It is also a great way to spend a few hours with your partner in a totally romantic atmosphere. Aawwwe!!!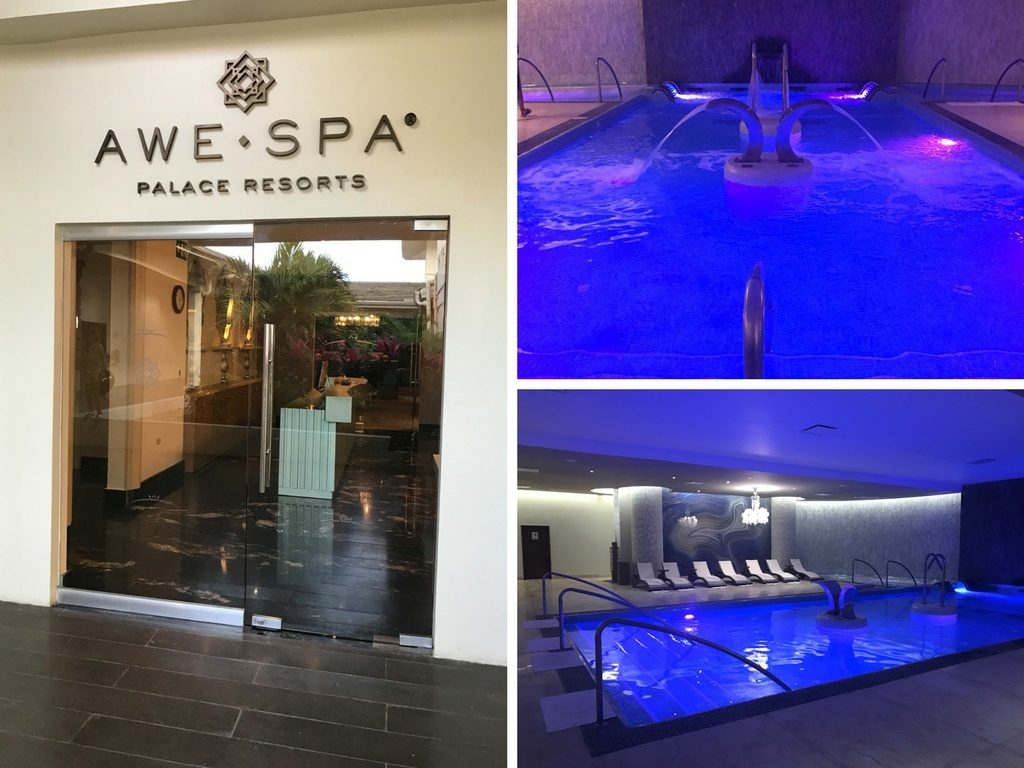 Travelling with children? No problem! I've never seen a Teen's club AND a Kid's club as cool as this one. Does your child love to sign? Let them take stage at the Kid's club signing karaoke! From a major play area to a small kitchen for the young cooks at heart, your child will not experience boredom here! And on top of it all, there's the water sports area and a Flow Rider for the more adventurous kid or big kid out there. And if you're into swimming with the dolphins, that option is also available on site.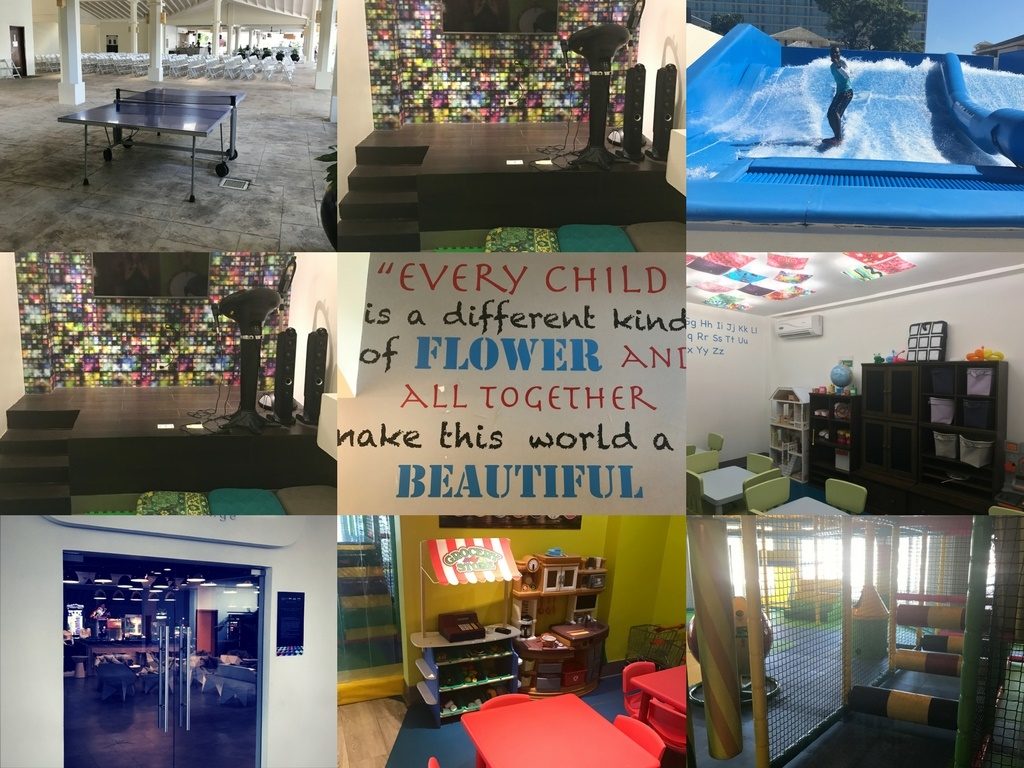 As for nighttime fun, there is always something going on at the Moon Palace. From the Piano Bar to the Loud bar and the hip Club Noir, there is music to cater to every taste. Looking for a bit more fun? You can find it here! The Moon Palace Jamaica Grande hosts regular big star concerts, such as Sean Paul, Survivor and many more! If you're a concert fan, there is no better way than to experience it in beautiful Jamaica!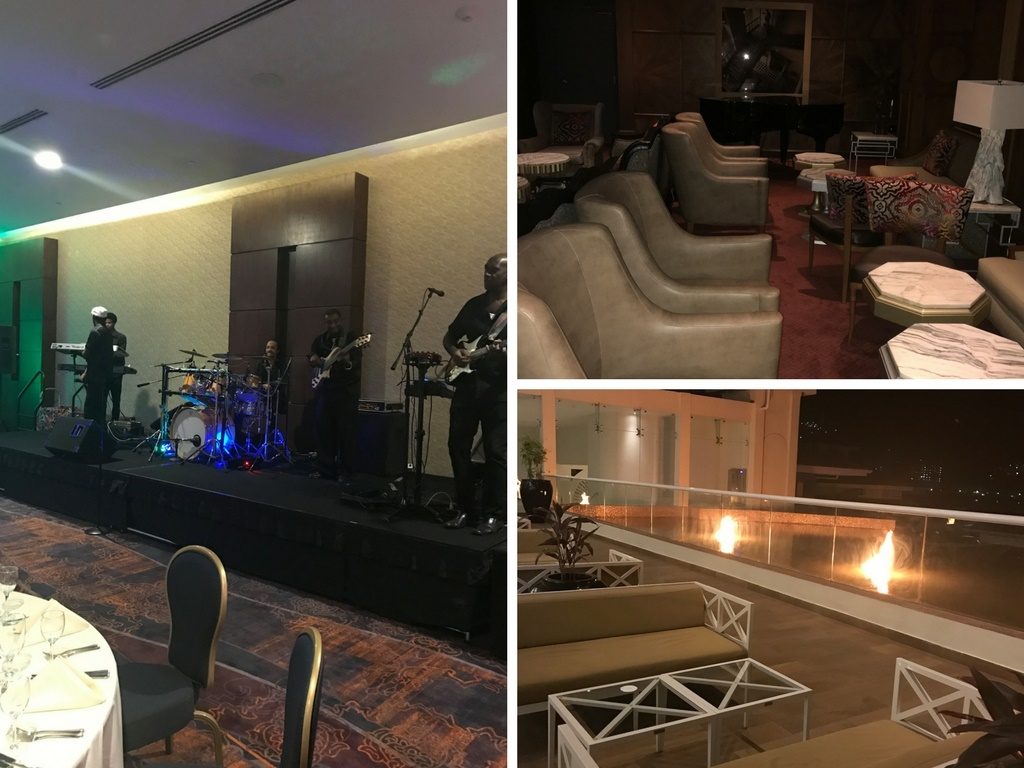 One last mention about this AWE some resort chain is their resort credits. If you book 5 nights or more, you are eligible to receive $1,500 resort credits per room. The more nights you book, the more credits you earn. While there is a small "tax" fee (20%) to pay when using the credits, the value far exceeds the fee. Those credits can be used towards spa services, golf, photo session packages, upgrades and many more.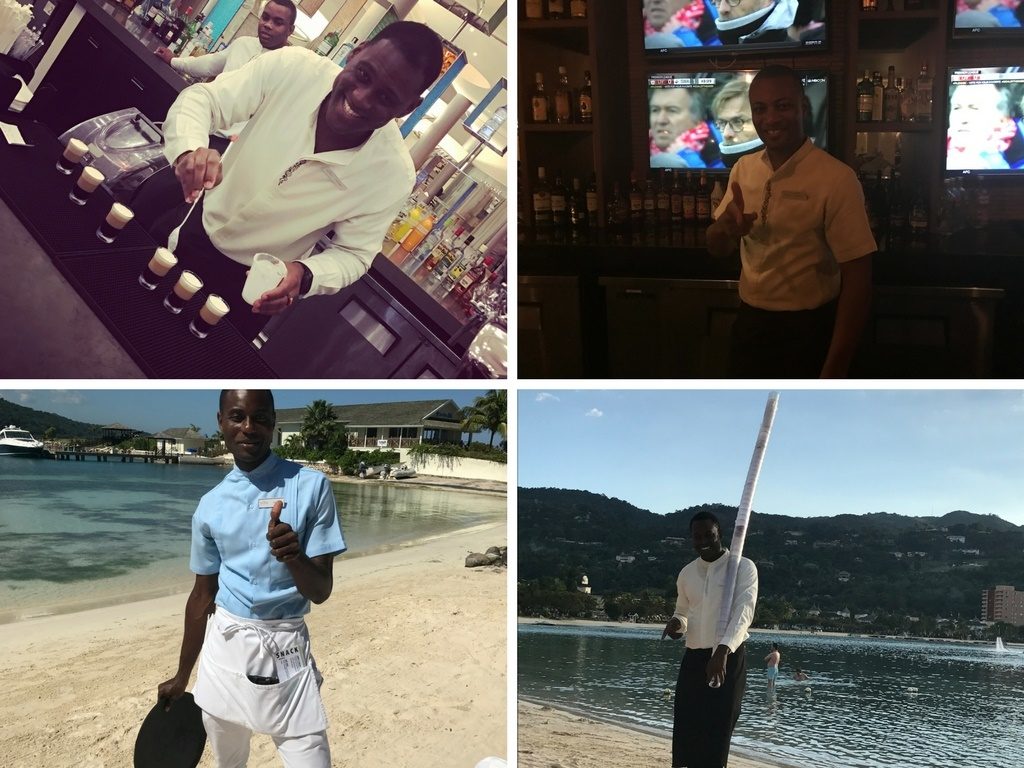 I hope I was able to give you a glimpse of what you should expect shall you wish to book your holidays with me at this amazing resort. To finish off my review, I'd also like to point out that the staff at Moon Palace Jamaica Grande were all welcoming, smiling and very Irie! They went out of there way to make sure we all had an AWEsome stay. They are truly shining stars ready to welcome you home.
Ready to book? Connect with me HERE.

Note: This blog post is a personal blog written and edited by me. The owner of this blog post is not compensated to provide opinion on products, services, websites and various other topics. The views and opinions expressed on this blog post are purely the blog owners.